MEDIUM APRONS WITHOUT SIGNATURE WILL SHIP THE WEEK OF DECEMBER 4TH. ADDITIONAL SIGNED AND UNSIGNED APRONS WILL BE ADDED THE WEEKS OF DECEMBER 11TH AND 18TH.
Limit 3 per customer. 

Made in CA by Mafia Bags - https://mafiabags.com

"It's like a tool belt for your whole body." — Jess Grey, Wired
READ THE WIRED.COM REVIEW 
FEATURES:
Constructed with 18oz cotton canvas, oiled tanned leather, and nylon webbing with plastic buckles.

Tools, pens and pencils in photos not included.
Approximate Dimensions and Weights (see size chart in image gallery)

Small:
Medium:
Large:
Width chest: 8.75"
Width waist: 22.5"
Height: 28.25"
Leg length: 11"
(measured from split)
Each shoulder strap: 43" 
Weight - 25oz

Width chest: 9"




Width waist: 24.25"




Height: 31.25"




Leg length: 11"




(measured from split)




Each shoulder strap: 51" 




Weight - 27oz

Width chest: 11.125"




Width waist: 27"




Height: 35"




Leg length: 13"




(measured from split)

Each shoulder strap: 61.5"

Weight - 30oz 
 DETAILS:
Model wearing the small apron is 5'.
Adam is wearing the medium apron and is 5' 11".
Model wearing the large apron is 6' 3".
With the use of natural materials, some variance in color to these images is to be expected in both the canvas and the leather materials.
The apron is not suitable for welding or forging.
I could never find the exact apron I wanted so I designed one myself. This is literally the work apron of my dreams! Taking design cues from half a dozen aprons I've used over the years, and adding a few ideas of my own, I started the apron project as a One Day Build on Tested.com. Now we've turned it into a real product, and in doing so we've built a key bit of gear that will protect you in the shop and look better and better as it does so. The materials used for construction, heavy 18oz green canvas and soft brown leather, were chosen for their durability and also for the way they'll weather and age. This apron will only improve in looks the more you beat the hell out of it. I love looking at the top of a workbench and seeing all the witness marks to the work that's happened there. It's a narrative, a story if you know how to read it. Our apron will tell the same kind of story as you use it. With both roomy and snug pockets, there's a place for all your critical tools. 
Product Add Ons
Savage Industries TAPE MEASURE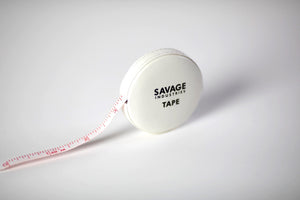 Savage Industries EDC ONE Black & Cream
Savage Industries Bedroll (v2)