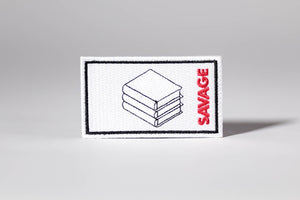 Designed by Isaac Hathaway
Patch is white with black stitching and a red Savage logo.
Hook and loop on the back attaches to the exterior of the EDC ONE, EDC TWO and the small and large pouches.
Approximate Dimensions:  Approximately 3.5" x 2" or 89mm x 51mm
I included a patch of hook and loop on the EDC bags because it's a standard NASA feature: lots of patches of hook and loop are on nearly every piece of NASA hardware for identification, and also stowage purposes. This has been the case almost since the beginning of both NASA and hook and loop. I always knew I wanted some distinctive patches to adorn the bag, and I reached out to a fantastic young graphic designer, Isaac Hathaway, to create them. Isaac designed six main patches. Each patch signifies a different use case for the bags: Writing, Photography, Drawing, Painting, Research, and of course, Making. He also designed a seventh generic bag patch with a terrific illustration of the EDC ONE. The collection has expanded to include our logo, uses for Sewing, Flying, Shopping, Camping, Beach Gear, and Baby Gear. We added Cables and Glasses for use with the small and large pouches. I asked Isaac for a set of graphically simple yet cool mission patches - he killed it. I travel with the bag patch on mine. Inception.